I constantly see MSP owners jumping into forums, asking question at events or webinars about how they should deal with a small client (Small clients are 1 to 20 employees).
Every time without failure all the other MSP owners just directly answering without asking questions or context – "Sack the client!".
Now it may be the right advice, but how would they know? They don't, they haven't asked.
I have also seen enough MSPs that a lot of this quick advice is "do as I say, not as I do", most MSPs still have lots of legacy clients and small ones on Ad-hoc arrangements, so take it with a grain of salt.
It's the prevailing group "wisdom" based on hearing one liners like would you prefer 100 clients paying $100 a month or 10 clients paying $1,000 clients?
It's true that it's better to have fewer clients spending more, but it's a saturated market, and when only 2% of all organisations grow above 20 employees, it may be time to rethink the opportunities.
I will be transparent, I would prefer a smaller number of clients in my client base and work with them more deeply and intimately. I am more biased toward this as its my personality and style. But there are plenty of opportunities to work with the right smaller clients, there is a business model that I am naming as a Technology Broker.
Before we dive into those opportunities, lets discuss the challenges that are important to understand when building a business model focused on small clients;
They have tighter budgets
They are strapped for time
They don't appreciate risk
They are slow to play
They don't have high IT needs
They may want everything for free and immediately
While all of these can be true, and you probably have clients like this, not all small businesses are the same! It is important to look at the following attributes when understanding small clients;
Are they new and looking to grow? Or are they long standing and static?
Is the owner working on the business or in?
Is technology important to their business or something they are trying to avoid?
Do they take advice or think they know everything?
Are they looking for a relationship or transactional based engagement?
Do they plan and make logical decisions or are they working day to day?
From the above you can clearly see a big difference between, between the quality of those attributes. Lets look at the opportunities with small clients;
Subscription License Resale (M365, Security, Productivity Software etc.) – Ongoing recurring revenue
ISP and VOIP Services – Ongoing Recurring Service
Projects – Fixed Price or Bill by the Hour
Hardware Resale
End User Support – Bill by the hour or Resold fixed price service
Basic Management – Ongoing Recurring Service
Advice – Bill by the hour
Application Configuration and Integration – Fixed Price or Bill by the Hour
DNS Names, DNS Hosting and Web Hosting – Ongoing Recurring Services
Virtual Desktop Infrastructure (Windows 365)
As you can see there are plenty of offerings you can provide to small clients that allow you to make money off each client both in a recurring and non-recurring basis.
One of the things I would highlight is that full all you can eat traditional managed services does not work with small clients, the basic management services would be purely to maintain basic standards and ensure that your clients continue to engage with you.
For you to take advantage of these opportunities to make money and provide a great client experience you will need to look at the following as way to run your business;
Set Clear Expectations – They clients will get what they pay for, nothing more, nothing less. You aren't there to do everything for everyone immediately because they think it's a priority as they hadn't planned in advance. Have a clear contract, show clear terms, show it on the website.
Stay Lean – keep the number of employees you have as small as possible. Be critical on why would you want to have direct employees. Look to outsource tasks such as bookkeeping, marketing etc. Anyone you look at brining on, look to offshore first, get more cost effective resources that will allow you to hire earlier and be more profitable while still getting very skilled resources. Any employee needs to either directly generate 3x their cost in revenue or enable you to be more billable yourself at high hourly rates.
Grow through partnering and outsourcing – If your clients want a help desk? Resell someone else's service that will meet their expecations and take a cut on top! The client needs a project done, get someone else to do it and take a cut
Standardise Your Offering Stack – Focus on something like Microsoft 365 as your platform, provide busines grade cloud managed networking equipment, provide hardware from the major manufacturers with longer term manufacturer's warranties, provide consolidated security/backup stack
Take Cash Upfront – Only work via direct debit and taking credit cards. Utilise a merchant facility to take automatic payments monthly and for the once off charges. Don't be chasing cash, bill month in advance for recurring services as much as possible.
Protect Your Time in Sales – Cut your down all of your sales processes by having a quality website that explains what you do including pricing and enable sign up. Only meet prospects virtually, use a tool like Calendly that they can schedule a 20 to 30 minute call after they provide you with information and watch a video where you explain what you do. Have templated offerings and pricing, don't change it for it anyone.
Don't Provide White Glove Services! – Drop ship hardware, get them to plug it in, do anything you need to do remotely. You can't afford the time in travelling and doing things manually. Don't set the expectation for immediate phone support directly from you, utilise tools to have them book in service in advance and utlise tools like teams chat etc. Get partners to deliver the projects remotely for you, why would you need to do a M365 setup? Can you get your distributor to do the base setup and connection to your cloud management/intune etc?
You don't need account management! – The clients aren't paying for it, utilise electronic marketing to drive sales and education campaigns to touch as many people as you can. If the client wants advice they can pay for it, can you go to a lawyer/accountant/financial advisor or any other professional service and get consistent free advice? You can't, so don't do it either.
Tools have to provide an ROI – Don't go buy all of the the shiny service provider tools until you need them because you are having issues through volume or quantity. Automate things once you have a problem
Charge Premium Prices for Your Time – if you are providing advice you should be charging $250 per hour at very minimum. Make sure you have +30% gross margin on any hardware, recurring services or when you take a cut when reselling services and products.
Learn to Sell the Value – you are a valuable partner for their business. You are charging them more because you provide quality and will set things up so they don't break. If they are on M365 get them on intune/autopilot etc even if they are small, charge them for a small fixed fee onboarding project and they will save over the long term on cheaper laptop installs in the future – They won't need much labour to get going, patching is taken care of and baseline security practices have been put in place. It allows you to charge a simple management fee to maintain a baseline
Leverage Whitelabelling and Partner Provisioning – Look at partners that can provide online provisioning that you can enable your clients to purchase services and have it automatically billed through your systems without you needing to quote them and undertake the admin to set them up
Mass Market – Compared to an MSP trying to sell high priced ongoing services, a Technology Broker has very simple offerings and is able to be delivered from anywhere. Understand what your small clients are looking for and market to that electronically.
Stick to Your Client Fit – What ever industry, type of organisation and what you provide, stay in your lane. Don't stray from what you are doing, it'll be a distraction, the market is huge! Remember 98% of all organisations are less than 20 employees, so when you get that potential 50 seat client, will they fit your model or will they require more time and have different expectations?
If you work in a mature manner, you can easily make good money and work with good client base, but you have to be clever.
I hope this article helped shaped some thoughts for you to consider, you may be small now or looking to start, don't try and be a "MSP" be a Technology Broker and differentiate yourself in the market and be a modern service provide that small organisations need.
About the author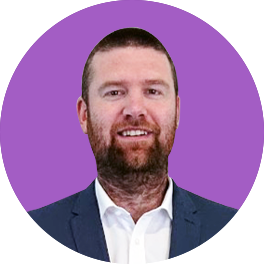 James Davis is the Director of Pax8 Academy Asia. Originally from Canberra, he recently moved as far south as he could to Hobart. He joined the Sea-Level family in 2020 to grow the Sea-Level Operations offering locally in the APAC Region, joining Pax8 in May 2022 to elevate the industry through education.
James is a coach that has over 16 years industry experience in owning and managing SMBs. His core purpose is "To create freedom from chaos from the lives of others so they can thrive and grow".
He values personal development, always trying to learn something new to build his body of knowledge to grow as a person and leader. James tries to share his knowledge and experience as much as possible, believing in the go-giver mentality.
About Pax8
Pax8 simplifies the way organisations buy, sell, and manage cloud solutions. Join the cloud marketplace that unlocks a universe of possibility! Sign up here.