Our development team has been busy working on improving the Partner Portal to best suit your evolving needs. We're excited to share the latest updates and features we've rolled out on the Partner Portal that you can use today!
Project Guardian
We've been hard at work with Project Guardian, a free tool for Hosted Network partners that highlights security vulnerabilities with Internet-connected services that have a static IP address. We are constantly updating and improving how it works and recently added several new features:
On-Demand Scanning: This allows you to scan your services, great for when you've addressed a security issue.
Historical Data: You can now see the history of your services, from what ports and vulnerabilities were detected in the past.
Port Information: See what type of services are being hosted.
We also now scan all services that have a static IP address, including IaaS (Infrastructure as a Service) services, as well as any nbn® TC4, Enterprise Ethernet and even your Failover LTE services.
This means Hosted Network is checking all of your publicly connected services. We have your back by ensuring that your services are checked. As always, we will call you if we detect anything that has a CVE (Common Vulnerabilities and Exposures) security vulnerability of 8 out of 10 or higher.
To book a demo, contact your Account Manager.
nbn® Enterprise Ethernet (EE) Diagnostics
The nbn® Enterprise Ethernet Diagnostics feature is now live! Echoing the functionalities available with nbn® TC4 connections, you can now conduct the following self-diagnostics tests:
BTD Status
NPT Statistical
UNI-E Status
Loop
UNI-E Port Reset
This enhancement empowers you with the ability to conduct preliminary assessments on your own. Before reaching for a support ticket, you now have the tools at your fingertips to diagnose and possibly rectify minor issues.

To get started, look for the "Diagnostics" button against your Enterprise Ethernet services.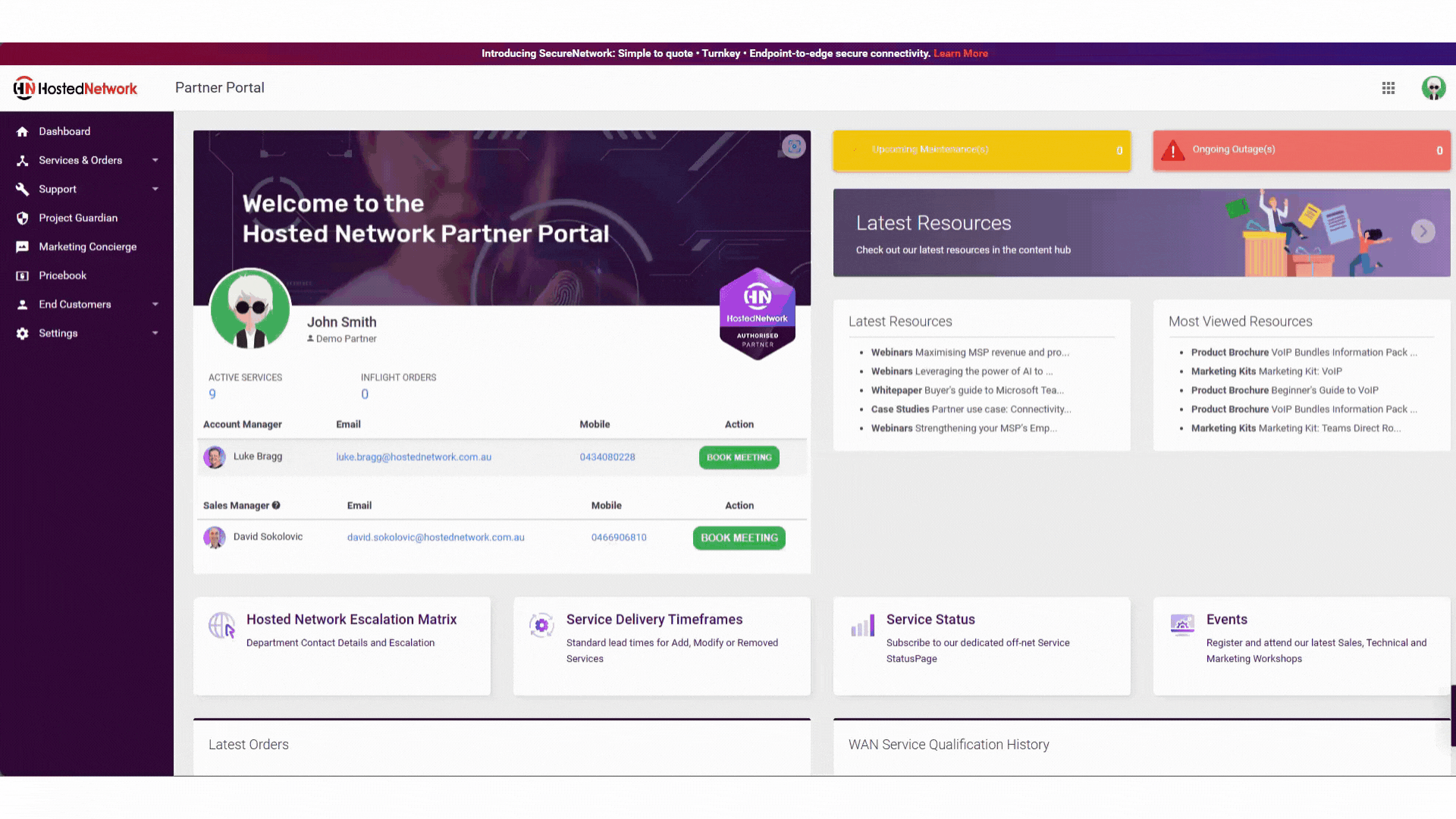 FTTP (Fibre To The Premise) Planned Changes
Now, you can easily identify which of your services are currently on FTTC (Fibre to the Curb) and FTTN (Fibre to the Node) – and which are soon eligible for the FTTP (Fibre to the Premise) upgrade. This update equips you with the insights to strategise and coordinate these upgrades with your clients proactively.
It's noteworthy that the upgrade timeline we provide aligns with what other ISPs use to target known suburbs for upgrades via pamphlets and promotions.
Our goal is for you to lead the charge in this complimentary upgrade, ensuring swift and effective communication with your end customers.
Simply visit our Partner Portal to view all relevant details: https://partners.hostednetwork.com.au/service/upgradeable-tc4-services
WAN Alerts
In our continuous effort to enhance our services, we're excited to introduce a new alert system for WAN monitoring. Previously, service disruptions might have gone unnoticed. Now, we've empowered you with the ability to subscribe to WAN alerts. This ensures that you'll receive email notifications promptly when any service is detected as down, and, importantly, when it's restored and back online. Stay informed and in control with this latest feature.
Set your recipient within the new Alert Centre, or within your profile page to receive these updates.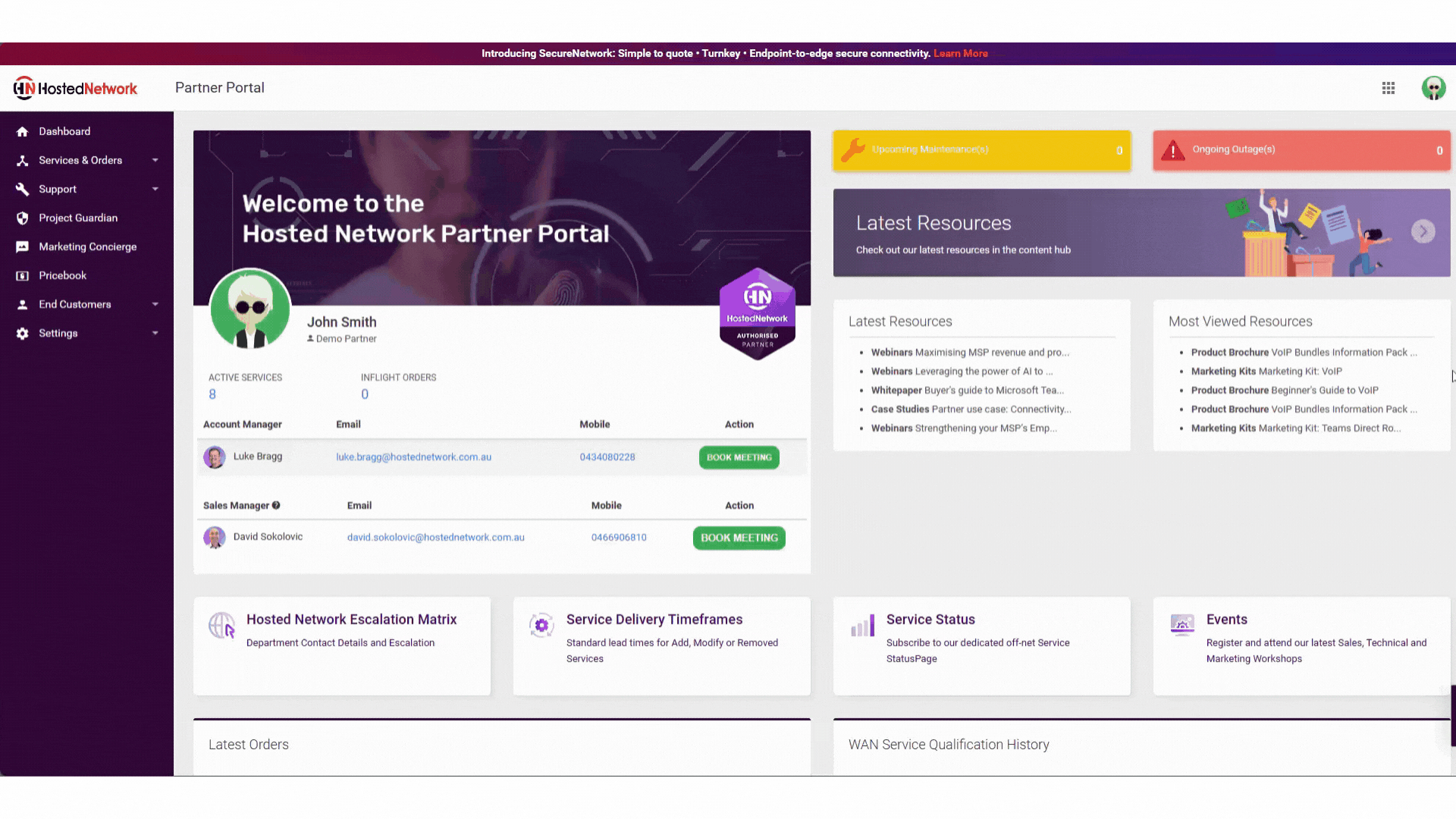 Alert Centre
Taking a significant leap to enhance your notification experience, the Alert Centre allows you to designate specific addresses for timely updates, ensuring the right team members are promptly notified. At its inception, the Alert Centre primarily focused on notifications for WAN Alerts. In the future, this will be your go-to hub for all Partner Portal alerts. Additionally, we're exploring expanding our notification methods to include integrations with Teams and Slack.
Check out the new area to set your notifications: https://partners.hostednetwork.com.au/alert-centre

Here at Hosted Network, we are driven by your feedback, so don't hesitate to reach out and let us know if you have any suggestions for improvements or features you would like to see.
To check out the latest enhancements, log into your Partner Portal account. If you are not yet a Hosted Network partner yet, you may contact our sales team to book a portal tour.