Hosted Network Director, Ben Town has been exclusively invited by all flash storage provider SolidFire, to speak at their Global Analyst Day 2015, held in Colorado later this month.

In preparation for the event, we thought it was the perfect time to explore exactly how Hosted Network and SolidFire work together to deliver high performance VDI through 100% Flash Storage.
For Hosted Network, having a storage system that could easily grow to meet our business demands and our Partner's business demands was essential. SolidFire provide a unique scale-out design, enabling us to add more storage on the fly to meet the growing needs of our Partners. This scale-out approach not only makes growth simple but it also provides us with an enterprise level redundancy due to the distributed nature of all of the data. With SolidFire we can lose multiple drives or even an entire storage node and our environment will remain online.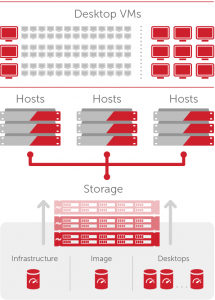 Being able to guarantee performance in the VDI space is a key selling point not only for ourselves, but for our Partners when marketing to to their end-user. The reason for this is that many on-premise VDI projects fail due to storage constraints which is a thing of the past for us thanks to the abundance of performance that an all-flash, highly available SolidFire array provide.
The other big advantage that a SolidFire array provides our Partners and their end-users is that each tenant is able to be separated into their own volume and Quality of Service applied to it so that each tenant cannot impact their neighbour. This functionality is a first of a kind for theDesktop as a Service industry and ensures that our DaaS offering is unique even against the larger competitors. Checkout the images to the right to see how this works.