If you're reading this, chances are you're already offering Cloud services and if not, you're definitely thinking about it. When it comes to selling Cloud there are two major things to consider: "Should I partner with an already established CSP and resell their services? Or should I build my own from the ground up?"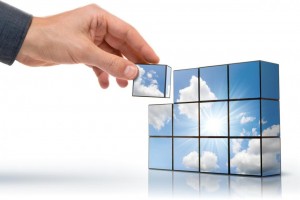 Should I resell?

Reselling is an attractive proposition. Risks are significantly lowered, upfront costs are minimised and profile is boosted through leveraging a renowned provider. If Cloud and managed services are a relatively new service to you, you're able to leverage vendor expertise and resources to become confident in selling the services you provide. Superior partnerships will provide rewarding and informative Partner Programs whereby you are encouraged and incentivised to succeed.
By Partnering with a reseller you have the opportunity to set your own margins and make significant recurring revenue without the hassle of having to maintain and network your own infrastructure. You can leave technical knowledge in the hands of your provider and the responsibility of maintaining a Cloud network is lifted.
Premium resellers can even give you the opportunity to white label their services, meaning you can completely rebrand and sell the solutions as your own.
Should I build my own?
Building your own Cloud has it's pros, primarily in the form of higher margins than that of a reseller. However, the initial outlay of costs to establish your infrastructure and position yourself as a Cloud provider is extensive and ensuring your Cloud has the latest technology is the price.
The technical knowledge, experience and credentials of building your own infrastructure are extensive and you are responsible for understanding and enforcing the latest updates and innovations. Establishing yourself in a highly sought after and competitive market means you'll need the sales and marketing tools to give you the competitive advantage to win and retain clients. You'll also need patience as the return on investment can take years.
There is no 'easy' way when it comes to being successful in the Cloud market. Remember to always consider value add services regardless of whether you're reselling or building your infrastructure from scratch. These value-added services will boost your average revenue per user and generate trust and confidence in the services you provide.
Whatever your decision, the Cloud is a lucrative market that can bring great success when executed correctly.