You spend lots of time and money on your beautiful website but, alas, you're faced with a virtual tumbleweed. Sounds familiar? The problem isn't usually about your website or content; it's about how you drive quality traffic to your website. The better the quality of your traffic is, the more likely you are to acquire leads that convert. That's the end goal after all.
So, what do you do? How do you get people to notice you in the midst of all the digital noise. Here are some things you can do to make sure you get quality traffic for your business:
Lead Magnets
Build lead magnets for a specific vertical or target market. Focus on their pain points to establish your position in their business, highlighting exactly what it is that you are solving for them.
Offer advice through educational whitepapers and free courses or better yet, have them experience your products through demos or free trials. When you have something tremendously life-changing or useful at the very least, present them in a way that allows you to start the conversation.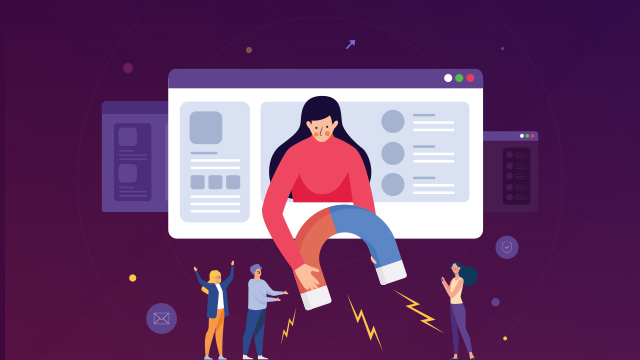 Another way of getting the right traffic is by attending networking events within the vertical you've picked—and yes, even in the remote work era, you can still do so through webinars and online events. You can also hold the webinar or online event yourself. If you know you have information that people need or want, a webinar is one of the best things you can do to let them get to know your services and company better.
These are just some of the tried and tested lead magnet ideas you can easily do to get them moving in your marketing funnel.
Engaging Vs Selling
Once you have them in your database, have them consistently engaged without bombarding them with your sales pitch. Sometimes the best way to sell is to stop selling and start engaging more.
By being intentional with your marketing strategy, you will not only solve their problem by nurturing through education, but you will gain their trust, which will help guide their decision of whether or not they should purchase your product or service.
Now, how can you get your message across?
You can use a combination of organic and paid strategies to get your message in front of your audience. Draw in the right leads through the quality of the content you put out and follow through with tailored messaging on newsletters or phone conversations. You can do this in conjunction with paid advertising channels to effectively target the audience you wish to interact with.
Seems tedious? Acquiring the right traffic for your niche really takes time and effort, so just keep on keeping on! With a little patience, some personal touch and the help of the latest marketing tools and technology, you can make it a little bit easier for you so you can focus on your core business.
Want to find out more? Download our Marketing 101 e-book for more tips and advice or simply reach out to our team at marketing@hostednetwork.com.au and we'll help you get started!