What changes have been made?
We're keeping things simple and easy to use. With the new Partner Portal, Partners can access the one-login system to:
View and update account details
View invoices
Lodge tickets to support departments
View resources including our range of pre-written website content, EDM campaigns, whitepapers, webinars, sales power plays and white label documents
Our Partner Portal will evolve to include DSL/NBN service qualifications, order placement and more, soon!
We're keeping our ears open for feedback from Partners and will be including new capabilities to the partner portal as our Partners needs change.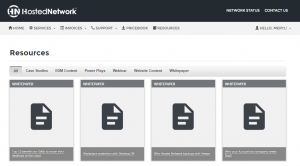 To learn more call our friendly team on 1300 781 148. If you're a Hosted Network Partner, check out the changes by logging into the Partner Portal.