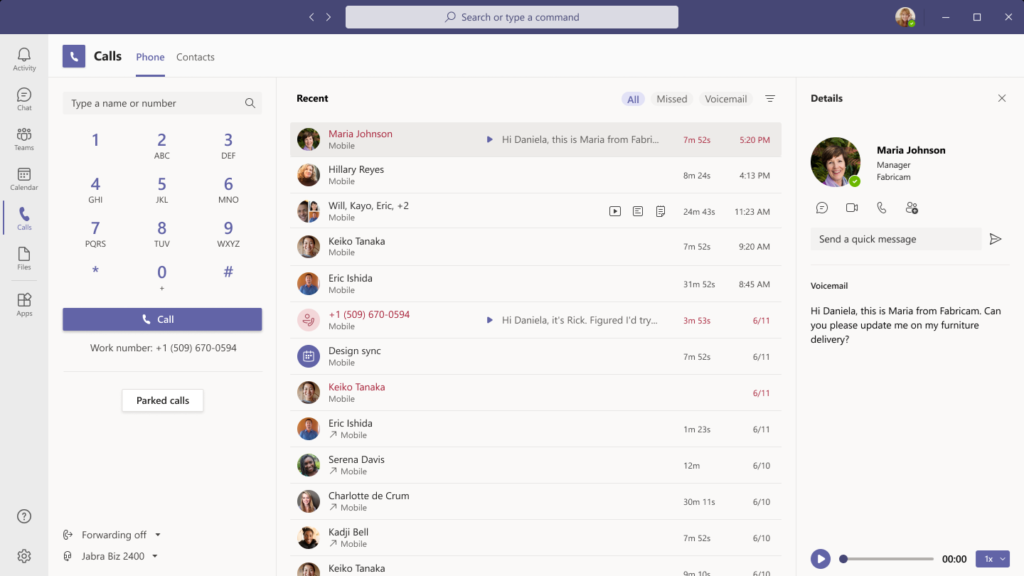 Over the last 1-2 years more and more SMBs have moved to Microsoft Teams to replace their traditional office phone system. The main reasons are usually because they're using Teams already and they need a phone system that works when staff are working remotely.
It's not until they start using Teams for phone calls that they realise it's one of the best VOIP solutions on the market today.
Here are the top 5 features your customers may not know about Teams to replace their traditional office phone system:
1. Make and receive phone calls with their landline number no matter which device they're on.
They no longer need to be tied to a physical handset or office desk. If they've got Teams installed, they can make or take a call. "Mobile, tablet or computer, it doesn't matter." Their landline is available on all those devices. When someone rings a staff member, all those devices ring and they can choose which one to pick up the call from.
2. Easily transfer calls between staff even when using their mobile to answer a call.
Teams is part of Microsoft 365, so their company contacts are synced from Outlook and their company address book making it simple to find people and transfer calls to one another.
3. Teams will triage their calls.
Teams has an auto attendant (IVR) feature that can play pre-recorded messages and dial options to automate the routing of calls to the right people or team, saving time whilst providing a great customer experience. Example, "Welcome to MODEX, the Microsoft 365 specialists, please press 1 for sales or 2 for support."
4. Teams is their virtual receptionist.
Using their company address book, Teams can search and connect calls directly to the right person. Example, "Please say the name of the person you'd like to speak to and I'll connect you."
5. Route calls to a team and hunt around for an available staff member.
Using call queues, Teams can ring multiple people in a team simultaneously or ring team members one by one to find the next available staff member. Useful if they have a sales or support team who field calls on a dedicated line.
It's these features along with its user friendliness that makes Teams one of the best phone systems on the market today.
If you're interested to know more about Teams Direct Routing and how it could align to your customers' business needs, feel free to connect with the experts at Hosted Network and MODEX who are now working together in delivering Teams deployment and training solutions to Hosted Network channel partners.
Recommended content: