Some of the Hosted Network team were off to China this week for the Huawei Cloud Congress (HCC) 2015 based in Shanghai.
It was crazy busy and as with most things Chinese, the scale was immense so there was significantly more than we could see than in the few days we had there.
Huawei as a company provide a wide range of products and services from enterprise IT, carrier grade networking to consumer mobile phones. Our interesThe tradeshow had all the major vendors such as QLogic, Mellanox, Seagate among others, who work with Huawei as well as a range of examt was primarily in the enterprise IT and carrier grade networkingside of their technologies.
Meanwhile there were a number of different seminars on a range of different topics such as IoT, 5G and Mobile Technologies, the future of storage and many more. We focussed mainly on storage related seminars, given that it's one of the major factors in the reliability of our services. This seemed to spark some conversation in the group of guests we travelled in. Needles to say, Storage as a Service is just going to get bigger. As more and more gets abstracted from the physical layer we will see a new wave of innovation. One of the main take-aways was when a speaker pointed out that hard drives had barely changed in speed in comparison to some of the upgrades we have seen in other areas of the industry. This is true for spinning disks as solid state drives have become all the rage, but I can only imagine what's around the corner.ples showing off how Huawei's products are able to be implemented in a range of different solutions from Big Data to Smart City Management and the future of IoT.
Following the Cloud Congress, we were invited to the Huawei HQ based in Shenzhen which is approximately 2 hours flight. A city that only ~30 years ago was only a small fishing village and now is home to major corporations such as Huawei and Foxconn (Apple products are all made here) and is a first world city in every possible way. While there we were taken on a tour of both their Enterprise IT, Carrier Equipment and Consumer showrooms.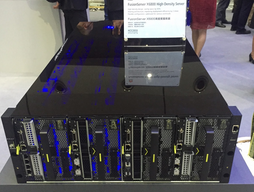 During the trip we crossed paths with a number of CEO / CIO's from large Australian MSPs and security firms and got some first hand insight as to what these companies were doing with their infrastructure, networks and security. Lucky for us, Hosted Network are at the top of their game and were able to provide some quality suggestions and ideas to players much larger than ourselves.
It's been a fantastic week here in China but we're looking forward to getting back into the office and discussing some of the topics with the rest of the team to see what further areas we can improve as well as plan for future growth.