We have to admit it, not many people have excellent time management skills. You might haven't realised it yet, but there are several areas where you're likely letting your precious time go to waste.
As they say – time is money. Time wasted is money down the drain. Time misuse, no matter how little you think the effect is in your daily grind, has negative effects in the long run. Wasted time can lead to delayed support to your customers, poor overall workplace productivity and worst, loss of potential revenue.
So here are some common time wasters in your MSP (that you've probably been neglecting for quite some time) and how to eliminate them.
Inconsistent Processes
All work is driven by the standard processes that your MSP follows. When each department sticks to standardised procedures, there's a greater chance of work efficiency and fluidity. As a small MSP many of these processes are in your head but as you grow it's critical that these processes be clearly outlined for your team.
A great example is how you handle service requests from customers. The initial step to identify the priority level for each request is needed to be able to plan and determine which customer needs your utmost attention. There is no point in fixing a minor printer issue when you have a customer offline. If your processes don't encourage your team to identify and focus based on priority you'll not only end up with wasted time; but frustrated customers as well.
As you acquire new customers, you could save lots of time and effort by creating Standard Operating Procedures (SOPs) that you can follow in your onboarding activities. This will help bring your customers inline to a particular standard and ensure that things like documentation, passwords etc are all standardised and allow your team to support the customer as efficiently as possible.
SOPs can be applied in onboarding new members of your team too. As new team members join, your processes will ensure that they are able to get up to speed as quickly as possible – ensuring that they contribute as a productive member of team as fast as possible
If you haven't started building out your SOPs, then it's time to start! Make it a requirement for your team members to always record all their processes and share them with the team so everyone who is involved can make smart decisions and actions. Everyone has had a moment when they think to themselves "I wish I had documented that". So build a culture of documenting processes then not only will your business become an oiled machine but your future self will thank you!
Poor Data Management
IDC data shows that employees spend 2.5 hours a day looking for information and documents that they need. This can be considerably higher in an MSP where we rely on accurate information such as IP addresses and passwords. When these items aren't correctly documented it typically results in the engineer having to ask multiple team members – resulting in wasted time for multiple team members.
To minimise the time spent in searching from space to space, it is wise to store and share project data in a secured repository that can be accessed by all team members. A good example to solve this problem is IT Glue or ***. These are designed for MSPs to streamline documentation. We often hear the complaint from MSPs that these sorts of tools are expensive, however as your MSP grows, consider the lost productivity and cost associated with it of your team members scrambling for documentation.
If you're still storing information in spreadsheets or word documents then it's time to rethink how you handle the management of your data.
In conjunction with a good data management tool, it's also important to consider using a good Professional Services Automation (PSA). Having a PSA can sure help you in day-to-day operations and resource management. There are a heap of different PSAs out there to suit all different sizes of MSP, as a starting point checkout the following:
Connectwise
Datto (Autotask)
Kasera
Atera
Accelo
Lack of Constant Perseverance
The thing about improvement is it's a continuous process and it doesn't happen overnight.
One of the common mistakes MSPs commit is getting too confident about sticking to their usual ways because they still seem to work, neglecting the fact that there might be a better way.
Make it a habit to regularly check the effectiveness of your current processes and determine the areas that need refinement. Follow the continuous improvement cycle – determine which steps should be developed, brainstorm amongst your team on how you can polish it up, simulate and review if the changes are more efficient than your previous process.
It's important to document all these modifications to achieve smoother workflows for both your MSP's internal and external environments.
Overtime, and if you leverage tools like a PSA you may even be able to turn some of these processes into automatic workflows that require minimal or no human intervention – the ultimate goal to avoiding wasted time!
Time efficiency is hard to achieve especially when you're dealing with the everyday chaos of running an MSP. But remember – there will always be a fire, it's the nature of IT. Sometimes things need to burn for a little bit for the greater good.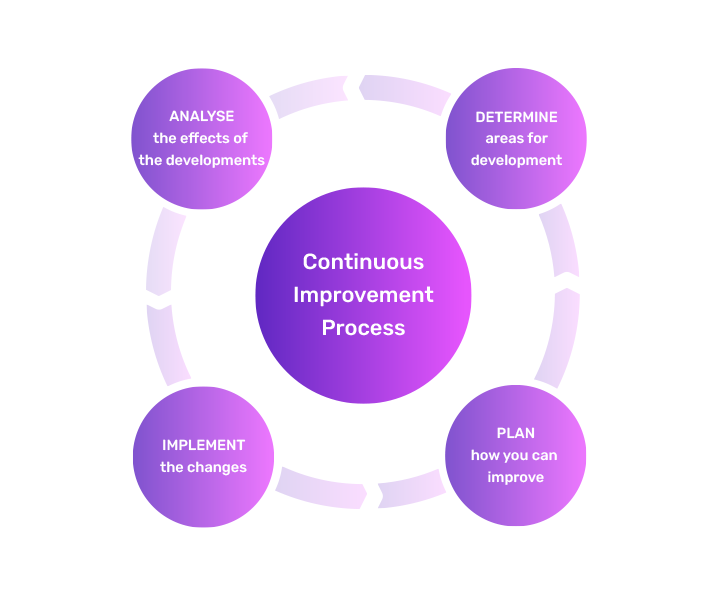 The best advice that we could give you is to get started! Book in regular time to create and review your SOPs and don't forget to leverage your team. Time is never going to be on your side.