We've been constantly giving you tips on the best practices MSPs should live by but we rarely tell you the things you should be avoiding.
So we've asked around some of our partners about some habits that you should NOT DO (or probably stop doing) if you want to be a successful MSP.
1. Being a "Client-Pleaser" for the Wrong Reasons
Know the value of your services and stand up for them. People like the best deals at the cheapest price but this will not be always the case! Do not waste your time haggling costs with customers who do not understand the worth of your services. You don't want to keep adjusting your costs and realise the negative effects when it's all too late. Plus, consistently lowering your prices could reflect badly to your business. There are a lot of smart prospects out there that might doubt the quality of your services.
Put the right effort into the right customers. MSPs who are now on top of the game are wiser in choosing the customers they want to work with. Focus on businesses that bring the most to your revenue stream.
2. Neglecting Good Customer Relationship Management and Lead Generation
The fact is out- not all people working in IT providers are social magnets. While we understand that selling may not be your forte, there are a lot of ways on how to understand the importance of consistent sales efforts and how to pull them off.
You will most likely lose your future deals because of continuously overlooking client relationships and lead generation so it's critical to know how to take good care of your existing customers and learn how to bring more in.
There is no excuse for not researching! Be proactive. The web is teeming with tips on how to boost your lead generation and sales efforts. Practice cold calling, keep on revamping sales pitches if the previous ones never work, increase your MSP's exposure by promoting in different digital channels and most importantly never lose touch with your current clients!
Additional Tip: Through time, your client database would gradually be bigger and harder to manage. No need to worry though because there are hundreds of resources out there that can guide you in managing a good sales pipeline.
Starting out as an MSP, Hosted Network has a fair share of the struggles in surviving in the IT services space. Here are some resources that you could leverage in improving your sales and marketing efforts.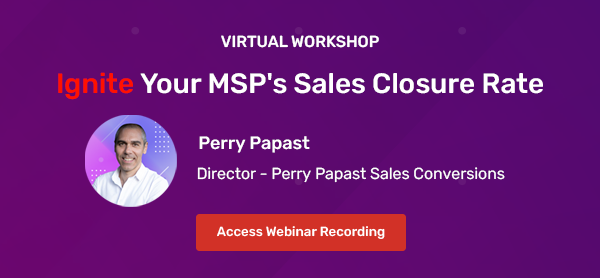 3. Working with the wrong partner
Have you been evaluating your vendors well enough? You might be a bit overwhelmed with your everyday hustle and bustle that you tend to forget to check if you're working with the right partner.
In the world of IT services, there should be more than just the ordinary supplier-buyer relationship. Vendors should go beyond and provide more value to their services.
Here are a few things you could ask your team on your next (or first) partner assessment:
Have they proven their expertise in giving you innovative and efficient solutions or you're the one orchestrating them?
Are they willing to the extra mile in helping you sell and market your services?
Does their pricing model justify the service they've been providing you?
If you will get a lot Nos in the questions above, then probably it's time to look for another vendor that could satisfy your customers' dynamic needs. After all, choosing the right partner is one of the most critical factors in both your MSP and clients' productivity and success.
Are you looking for a new partner? Read through the whitepaper below and learn the reasons why partnering with Hosted Network could be one of your MSP's best decisions.

4. Ignoring the Power of Upselling
Your clients haven't realized this yet but they might need more from you. You'll understand their needs if you consistently talk to them, ask intelligent questions and know their pain points. Once you heard their stories, ponder on your list of offerings and if doable, create a bespoke solution that could address their problems.
Is their office located in a disaster-prone area? Go ahead and tell them the importance of Backup and Disaster Recovery (BDR) Solutions. Don't have enough budget for new workstations but badly need to run heavy applications? Then let's talk about Desktop as a Service (DaaS).
There's a great chance that they would not purchase outright, but discussing these offerings will leave them something to think about. This is the perfect time to instill more relevant info. Write whitepapers or blogs, and even conduct webinars about the advantages of integrating these solutions.
Remember, we should establish the idea that you are more than just an IT service provider but a reliable partner. Some of you might be having epiphanies already and dealing with realisations about what you've been doing wrong in the past, but don't worry because it's not yet too late to start anew and forget your old MSP habits. To end, here's a quote from the legendary Master Yoda.