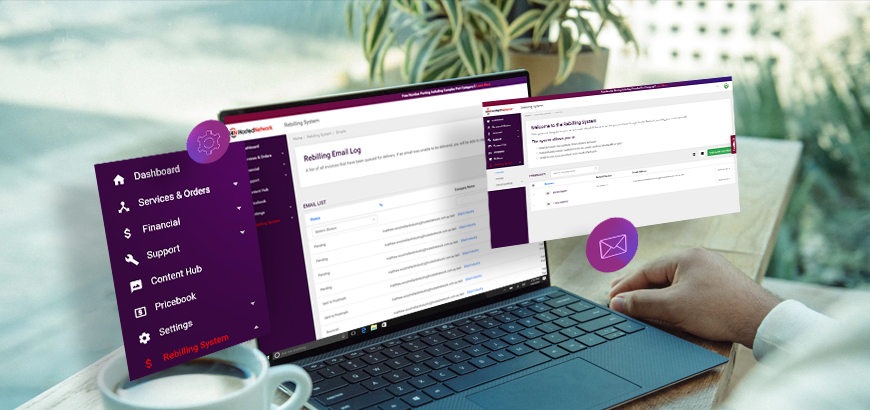 Since its inception in 2018, Hosted Network's rebilling platform, initially built to help partners bill call usage charges from their VoIP Services, has been continuously improved and developed to help partner MSPs diminish the common pain points that hinder profitability and growth such as vendor pricing fluctuations, lack of time and costly administration of invoices which often leads to missed billings and loss of revenue.
Supportdesk Australia is just one of Hosted Network's partners who has been using the rebilling platform in streamlining customer billing for telco and other services. "The rebilling platform has made invoicing telco products a breeze. I am now able to combine ISP/telco billing and my monthly managed service invoicing without wasting time on manual entry. We are no longer missing out on billing services which means our profits are going up. The user training was so easy and the documentation isn't complicated as well- it enabled us to set up the system seamlessly.", said Mark Di Cristo, Managing Director at Supportdesk.
Hosted Network have optimised the rebilling platform even further expanding the rebilling capability beyond voice services to their full suite of cloud and telecommunication solutions. Already integrating into Xero and Datto's Autotask PSA, the updated system will now integrate into ConnectWise PSA to further streamline the end-to-end service cycle and rebilling of Hosted Network's service offering.
"By working closely with our partners during beta – we were able to identify and work on the components that need to be enhanced for better user experience and simpler rebilling procedures. We've received great feedback from the beta test and are just a few steps away from the full release." added Matthew Wood, Hosted Network's Developer Team Lead.
Some of its key features include:
Manual invoice generation. Partners can now select a specific billing period to generate invoices.
Ability to edit once off charges. This enables partners to edit or delete the once off charge before you generate an invoice.
Connectwise Integration. Aside from the existing built-in accounting and PSA software integrations such as Xero and Autotask, Connectwise has been added to give partners more sync options to their current systems.
Disable auto upload to third party integration. Partners also now have the ability to turn off the automatic syncing of invoice line items to the configured third party integration and be able to manually upload invoices if need be. This will allow them to check and amend invoices before sending to customers.
Invoice sharing. Users can now select which of their customers can get invoice copies.
Ability to issue one invoice for all vendors. Partners can now generate a single invoice not only for Hosted Network's services but for other vendors as well through the ability to add custom once off and recurring charges
Easier service bundling and naming. The new rebilling platform also enables partners to decide how to bundle their packages, group services under one line item and name Hosted Network services as they see fit.
Margin customisation. Partners can now set margins by percentage or sell price and prevent missing charges as they can now add margins to specific utility charges such as excess data usage fees.
Enable/Disable the pro-rating. Partners now have an option to enable pro-rata calculations.
Regenerate and Delete invoices. Users can now delete and change details of invoices before sending them to customers.
Other enhancements include bulk download of invoices in CSV format, ability to select billing end dates for recurring charges, and updated billing frequency of recurring charges to monthly, quarterly, semi-annually, yearly and biennially.
"At Hosted Network, it's all about delivering the best partner experience. This is why we've invested in building enablement tools such as the rebilling platform to reduce our partners' administrative time. We want to make sure these tools are easy and simple to use which is why the extensive beta testing was critical to get partner feedback, and ensure the functionality aligns with how our partners operate whilst staying profitable." said Meryl Palma, Partner Success Manager at Hosted Network.

The new version of the rebilling system, currently only available to a select group of Hosted Network partners for beta testing, is set to release in January 2022.